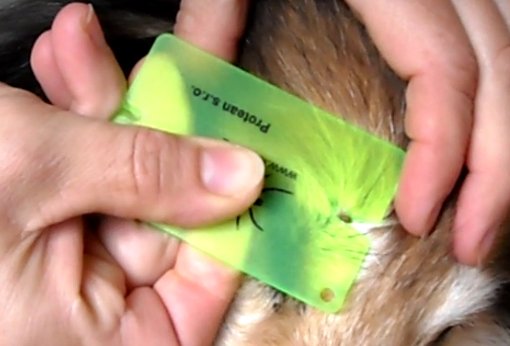 The safest method of tick removal is using a special tick-card with a small notch to pull the tick out of the skin without the risk of squeezing the tick and forcing its contents into the bite wound, thereby minimizing the chance of infection. The tick-card can be ordered at our online shop, where you can find additional protective products.
Instructions
Using the small magnifying glass in the corner of the tick-card, make sure you are dealing with a tick. The card has two notches, each of a different size. Choose a notch according to the tick size. Lay the card horizontally on the skin and push it towards the tick, aiming at it with the notch. Keep on pushing the card – the tick will be extracted either with or without its feeding tube (hypostome). If the tube stays in the skin, there is no need for its removal, the healing skin will eliminate it on its own. Thoroughly disinfect the bite wound.
Demonstrations of tick removal using the tick-card
Removal of a larger tick from a dog.
Removal of a small tick from human skin.