Life cycle of Babesia
The complete life cycle of Babesiosis is depicted in the picture below.
I. The cycle begins with an infected tick sucking on mice.
II. Sporozoites infiltrate red blood cells, where they reproduce asexually and create male and female gametes.
III. The gametes are sucked through the blood in another tick, in which they merge and give rise to zygotes (through sexual reproduction).These infiltrate the salivary glands of the tick, where they produce more sporozoites.
IV. The tick sucks on human blood, the sporozoites infiltrate human red blood cells and procreate, causing Babesiosis. In the human host the parasitic life cycle ends. Human-to-human transmission is only possible through blood transfusion.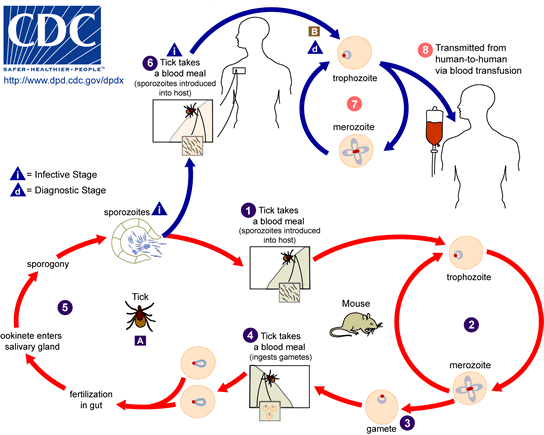 Symptoms of the disease
Babesiosis can occur without any serious symptoms, or as a dangerous disease with malaria-like symptoms: fatigue, loss of appetite, joint pain and muscle soreness, depression, cough and dyspnea. Regular symptoms include fever, liver enlargement, muscle soreness, shivers and jaundice. Multiple infections with another disease, most commonly with Lyme disease, are relatively frequent. It that case, the disease progression becomes much more serious. More information about multiinfection in another article.
Treatment
Babesiosis is easily curable. First-choice drugs are clindamycin and quinine, or alternatively azithromycin and atovaquone.
Overview of infected tick incidence
Prevalence of pathogens in ticks were assembled based on ticks analyzed in Protean s.r.o. laboratories.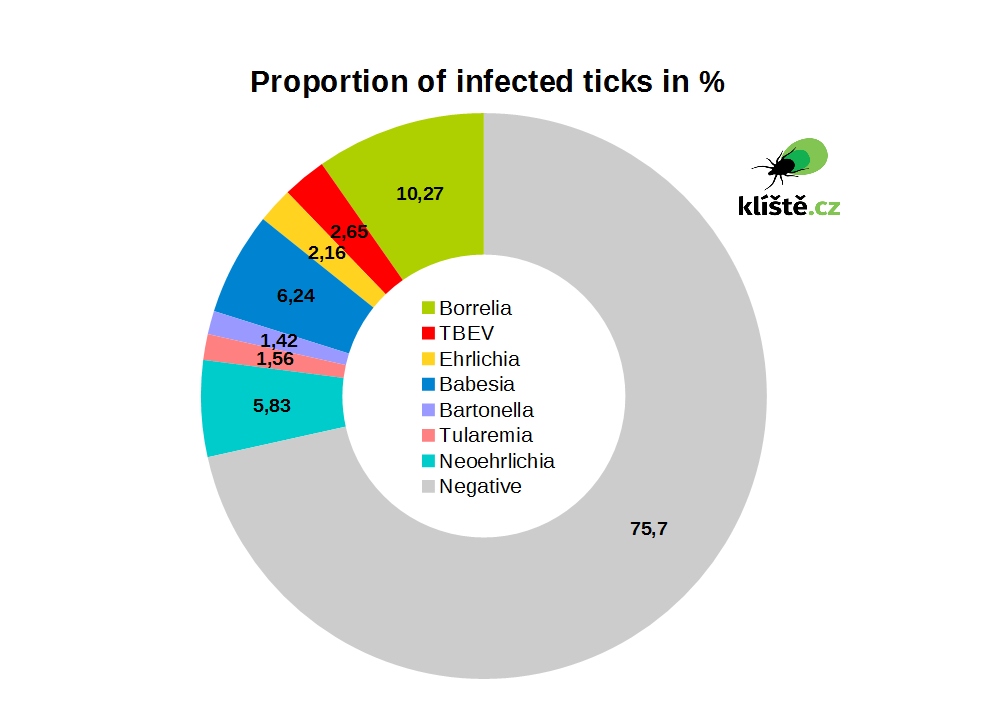 Links:
Koinfekce boreliózy a babesiózy v USA
P?íznaky koinfekce babesiózy v praxi - Suzy Cohen
Epidemiologie babesiózy - prezentace